Many unsung heroes provide invaluable support and inspiration for people living with multiple sclerosis (MS). To recognize these individuals, Biogen is excited to continue working with MSWorld, MS Focus, Can Do MS, and MS Views & News.
This March, we're kicking off our third annual #MySupportHero campaign during MS Awareness Month. This is our way to help the community say thank you to support partners for all that they do.
Use #MySupportHero on Twitter and Facebook to celebrate your heroes!
Honor the MS community
#MySupportHero offers a way to recognize family members, friends, and healthcare professionals who have made an impact in the lives of those living with MS. There are also countless organizations and individuals in the MS community who offer support, education, and resources to raise awareness of MS. Together, we can continue raising awareness of MS.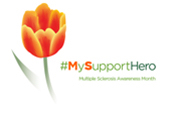 Get involved with #MySupportHero
Recognize your support partner on social media using the #MySupportHero hashtag, and consider posting a photo or short video honoring this special person in your life
Replace your profile picture with our virtual flower, which you can download here
Send an email and/or request a postcard here to send to your support hero
Meet this year's team
We continue to raise awareness for all people living with MS, but it's a team effort. We'd like to thank MS organizations for helping us spread the word about #MySupportHero. These organizations work to provide support and education to the whole MS community. Learn more about #MySupportHero and how each of these organizations contribute to the community by following them on Facebook and Twitter, or by visiting: